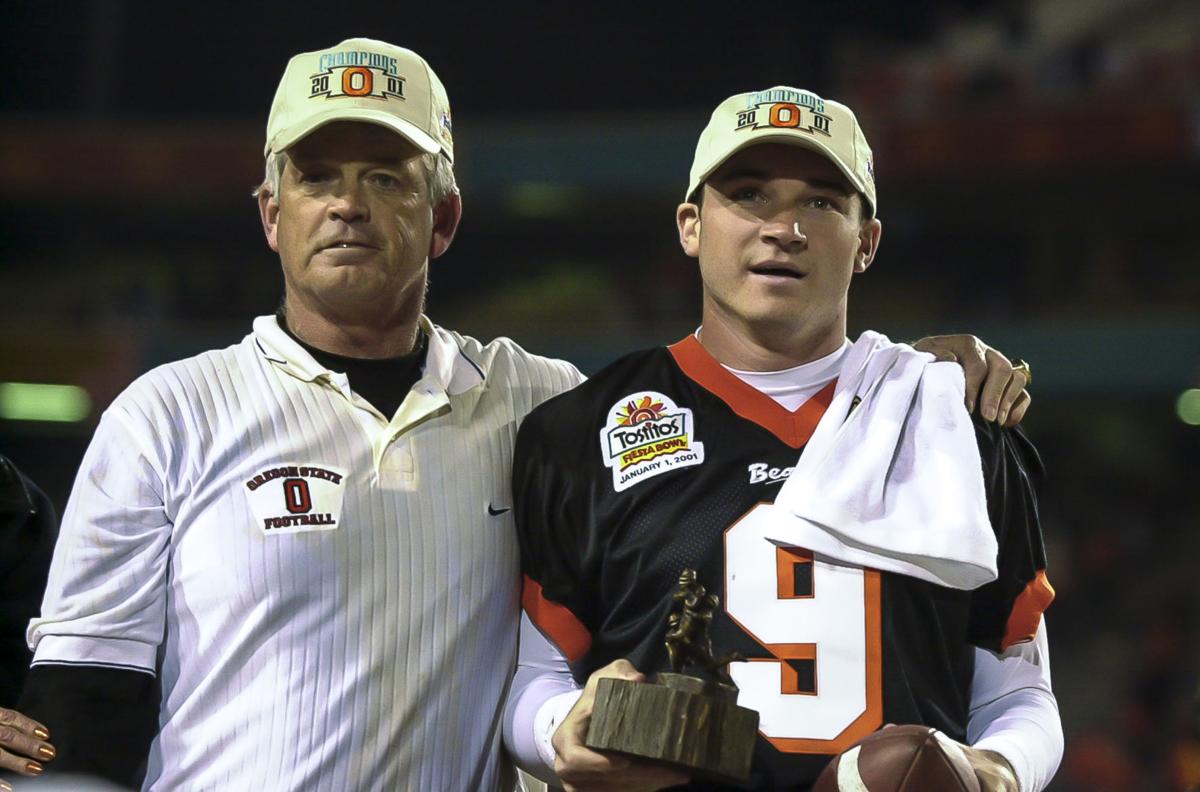 Corvallis OR– Jonathan Smith, one of the most successful student-athletes in Oregon State University history, has been named head football coach of the OSU Beavers, Vice President and Director of Athletics Scott Barnes announced Wednesday. His appointment is contingent on the completion of all university hiring processes.
"We are very excited about having Coach Smith lead our program," Barnes said. "We interviewed several qualified candidates and Coach Smith emerged as our top choice.  He brings to Oregon State football an impressive plan to build our program. He has a unique perspective on what it means to be a part of Beaver Nation and to be successful for our student-athletes on and off the field."
Smith is the first OSU graduate to serve as a Beaver head football coach. He returns to Corvallis after a highly successful stint at the University of Washington as offensive coordinator and quarterbacks coach.  Smith spent the last four years with Washington, helping the Huskies to the Pac-12 Conference 2016 championship, an appearance in the College Football Playoff and ending the year with a No. 4 Associated Press Poll ranking. Washington earned a share of the Pac-12 North division title this season, and is ranked No. 13 in the nation while awaiting its selection to a bowl game.
"I want to thank President Ray and Scott Barnes for their confidence in presenting me this opportunity to return to Oregon State University to be the head coach," Smith said. "I also want to express my gratitude to Coach (Chris) Petersen for providing me a path to realize my dream as a head coach."
With Smith as offensive coordinator, the 2016 Huskies narrowly missed setting a school scoring record, averaging 41.8 points, which was tops in the Pac-12 and eighth in the nation.
The 38-year-old Smith molded junior Jake Browning, the first true freshman season-opening starting quarterback in Huskies' history, into one of the top players at the position in the country. Browning was the 2016 Pac-12 Offensive Player of the Year and has been among the top candidates for the Heisman Trophy over the last two seasons.
As a student-athlete, Smith was a four-year letterman quarterback at Oregon State from 1998-2001.  He joined the program as a walk-on from Glendora, Calif. Smith earned his first start on Oct. 31, 1998 and never relinquished that role for the final 38 games of his career. The two-time team captain led the Beavers to the 1999 Oahu Bowl and the 2001 Fiesta Bowl, where OSU capped an 11-1 season with a dominating 41-9 victory over Notre Dame and a No. 4 final Associated Press ranking.
"Oregon State University is a special place and I have many memories of being a part of Beaver Nation," Smith said. "I played for some of the best coaches I have ever been around and learned many of the qualities I have utilized in my coaching career."
Smith left OSU as the school's all-time leading passer with 9,680 yards — he now ranks third among all Beaver quarterbacks in total passing yardage. At the time of his graduation his records included career touchdown passes (55); single-game passing yards (469 yards vs. the Huskies); and single-season passing yards (3,053 yards in 1999). He still holds the mark for the longest touchdown pass at 97 yards to Chad Johnson in 2000. Smith left OSU ranked No. 3 at the time in conference history for passing yards and total offense.
"I'm in the process of putting together a coaching staff that will share the same vision and goals that I have for this program," Smith added. "I'm looking forward to working with the young men we currently have in the program and solidifying a recruiting class."
His honors as a player were numerous while wearing the Orange and Black. He was the Fiesta Bowl Offensive Most Valuable Player, earned Pac-10 Conference Offensive Player of the Week multiple times and was a two-time member of the Pac-12 Honorable Mention team.
Smith succeeded as a graduate assistant coach in 2002 and 2003 under both Dennis Erickson and Mike Riley, respectively. He helped the Beavers to the 2002 Insight Bowl and 2003 Vegas Bowls, and in the process assisted in the grooming of longtime NFL quarterback Derek Anderson.
Smith's first full-time coaching position came at the University of Idaho in 2004, where he served as the quarterbacks coach through 2009. In his final season with the Vandals, the team ranked ninth in the NCAA for total offense (451.4 yards per game); 12th in the nation for passing offense (286.7 yards per game); and 20th in scoring (32.7 points per game). Under Smith, Vandals quarterback Nathan Enderle finished the year ranked No. 5 in the NCAA in passing efficiency.
From 2010-11, he was the offensive coordinator and quarterbacks coach for Football Championship Subdivision (FCS) powerhouse University of Montana, leading the Grizzlies to the NCAA Division I semifinals in 2011. While Smith was at Montana, the Grizzlies' offense ranked in the top 20 nationally in multiple categories.
Smith joined Boise State University for the 2012 and 2013 seasons as the Broncos' quarterbacks coach and helped guide the team to the 2012 Mountain West Conference co-championship and to a victory over the Washington Huskies in the Las Vegas Bowl.
Following the 2013 regular season at Boise State, Smith followed head coach Chris Petersen to the University of Washington to serve as the Huskies' offensive coordinator and quarterbacks coach.
A three-year starting quarterback at Glendora (Calif.) High, Smith graduated from high school in 1997 and earned his bachelor's degree in liberal studies from Oregon State in December, 2001.
He and his wife, Candice, have three children, Robert (9 years old), Bella (7) and Charles (3).
COACHING HISTORY
2014-2017 – Washington – Offensive Coordinator/Quarterbacks
2012-2013 – Boise State – Quarterbacks
2010-2011 – Montana – Offensive Coordinator/Quarterbacks
2004-2009 – Idaho – Quarterbacks
2002-2003 – Oregon State – Graduate Assistant
WELCOME RALLY: Oregon State will host a "Welcome Rally" that is open to the public Thursday night at 7 p.m. in the Club Level of Reser Stadium.